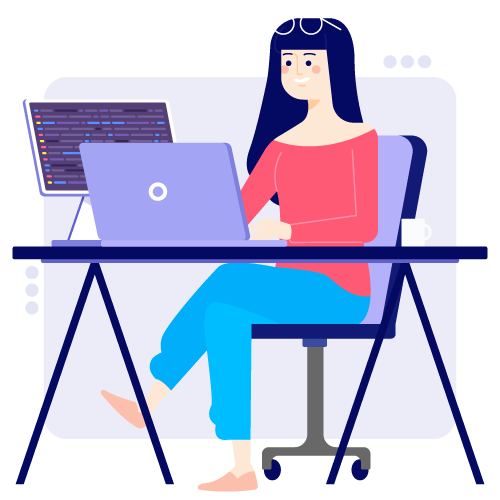 Hire Full Stack Development Experts to craft your concept Digitally
Hire a dedicated full stack development team from Mango IT Solutions– who you'll have complete control over, while we manage other things such as office space, payroll, taxes, etc. At Mango IT Solutions, we follow an agile development methodology to speed up the software development process. Our full stack developers have the knowledge and proficiency of PHP, HTML, CSS, JavaScript, databases, and converting Photoshop designs to frontend code. From business analysis, project management, UI/UX design, software development, software maintenance, to Quality Assurance, our dedicated developers can do it all.
Our full stack development components
Custom development and styling
Rich user interface
Dynamic web apps
Cross-platform app development
Graphic designing
Quality Assurance and testing
Custom backend design
MVC integration
API design and development
A molecular approach to design dynamic apps
RESTful services
Secure backend architecture development
Third-party database integration
Database integration
Server and hosting assistance
API integration
Custom database development
Database migration
Database testing
Our WordPress Developers Technical Expertise
WordPress CMS Development
We offer a complete range of WordPress CMS development services to help you manage your content in a structured manner and keep your site highly productive, updated and packed with SEO features. So you can easily publish, manipulate, edit & delete content in the central interface.
Hire our devoted WordPress developer to get customized and cost-effective WordPress solutions that are magnificently reliable, flexible and scalable. Fulfil your WordPress store setup and customization, compatible with the latest WordPress version and other plugins to meet your business objective.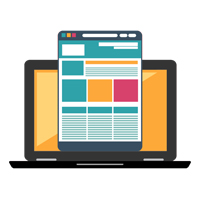 WordPress Custom Plug-in & Module Development
Our developers add more functionality and features by developing plugins and extensions to boost performance and enhance your website's overall functionality. We have been offering the world-class WordPress plugin development services to help you fulfil your business demands.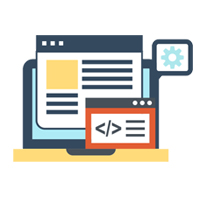 WordPress Theme/Template Customization
Our expert WordPress developers, by their demonstrated talents, help you develop a responsive theme that soothes your demands. Our top dedicated WordPress experts can provide you with feature-rich customizable WordPress themes that are attractive, eye-catchy, and user-friendly.
PSD to WordPress conversion
Convert your PSD designs into a fully responsive, compliant & compatible WordPress website. Our dedicated WordPress Developers do PSD to WordPress conversion or Sketch to WordPress conversion and help you get the most fantastic PSD solutions and best WordPress theme designs.
WordPress Ecommerce Development
Our WordPress experts create storefronts built using the Woocommerce plugin and business-specific theme to shape your business website with a transaction interface. Our dedicated WordPress Developers provide eCommerce services tailored to meet your business requirements and handle web traffic.
What makes a good full-stack developer?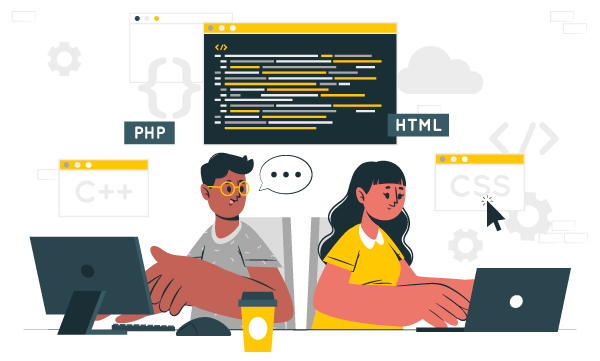 So what makes a full-stack developer particularly valuable to your development initiatives? What would they need to know in order to make your idea a reality? 
Well, it depends on many factors and full-stack developers aren't always in the position to be making architectural decisions. That's a process for higher-level roles such as a software architect, VP, or even a CTO. Does this mean that full-stack developers can't offer valuable insights? Of course not! Full-stack developers worth their salt have enough years under their belt to know their strengths and weaknesses. They also have picked up some insights on what clean code and architecture actually means, and are able to apply high-level principles to their work.Unfortunately, good full-stack developers are hard to find. We have invested time and resources into training software developers to think and work more like senior developers. Our clients enjoy a level of professionalism that many tech startups and SMBs miss out on.
How to Hire Our WordPress Developers

Our WordPress Developers' recruitment process starts with a free consultation session over communication channels – Skype, Google Meet, Slack, Phone line, etc.

Discuss project details with our business analyst
Our Business analyst will reach out to you for discussing your project requirements and better understand your vision for your WordPress website.

Finalize project terms and timelines
We present a detailed project proposal that includes the best approach to the tasks in hand and the breakdown of requirements in uniform milestones and the time and cost of development.

Agile based execution and delivery
Our Expert WordPress developers initiate the development process based on Agile sprints and share daily reports through any suitable project management platform. We have Jira, Trello, Asana, Basecamp and will use Git to commit our codes regularly.

Project deployment and maintenance
When the development stage completes our expert WordPress developers extended the store to the Production Base. We have a specialized team of Server Administrators that can set up AWS or any server of your choice fully optimized to run WordPress websites.

We take the application from the staging process to real-time so it can effectively serve your needs just as you imagined it. We consistently remain connected to accommodate any assistance if demanded.
Specialization of a full stack developer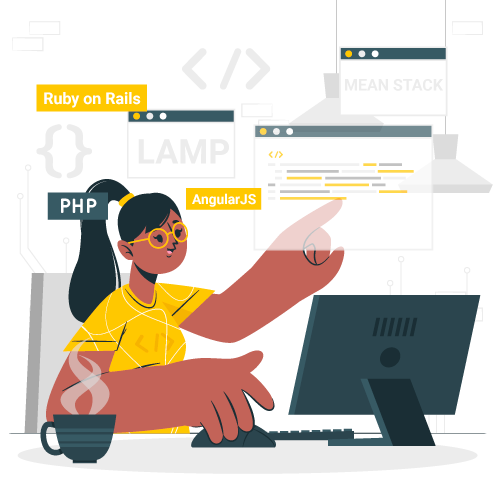 As already stated, any full stack professional of the highest order should be completely adept and expert ion the three capabilities required in building any particular project. Now, there are several options for different kinds of programming languages to choose from, and some of the most widely popular collection of capabilities have their own names like LAMP (Linux, Apache, MySQL, PHP), LEMP (Linux, Nginx, MySQL, PHP), MEAN Stack (MongoDB, Express, AngularJS, Node.js) and Ruby on Rails (Ruby, SQLite, PHP) etc. based upon these collection of tools, any such developer can accomplish a web or software project from beginning to the end.
Do you have an interesting project? Let's talk about that!