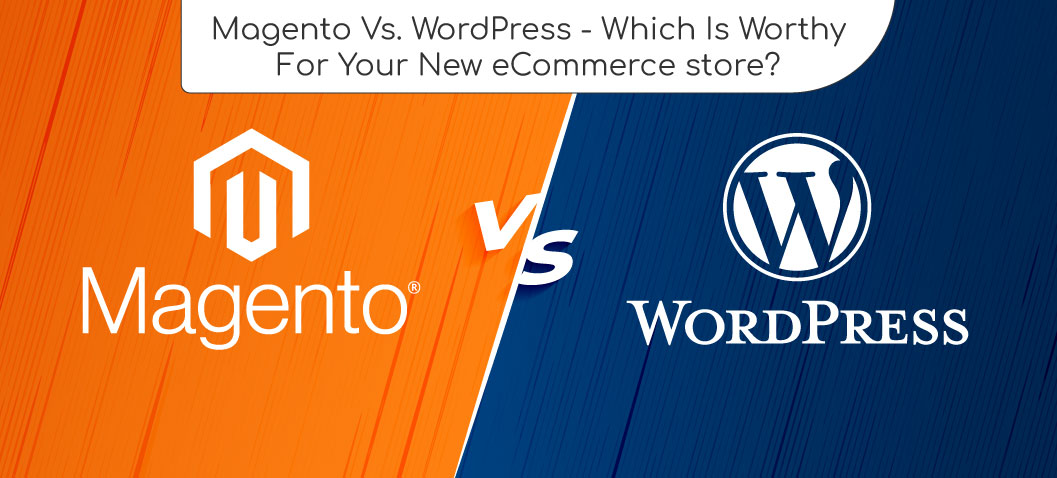 Magento Vs. WordPress – Which Is Worthy For Your New eCommerce store?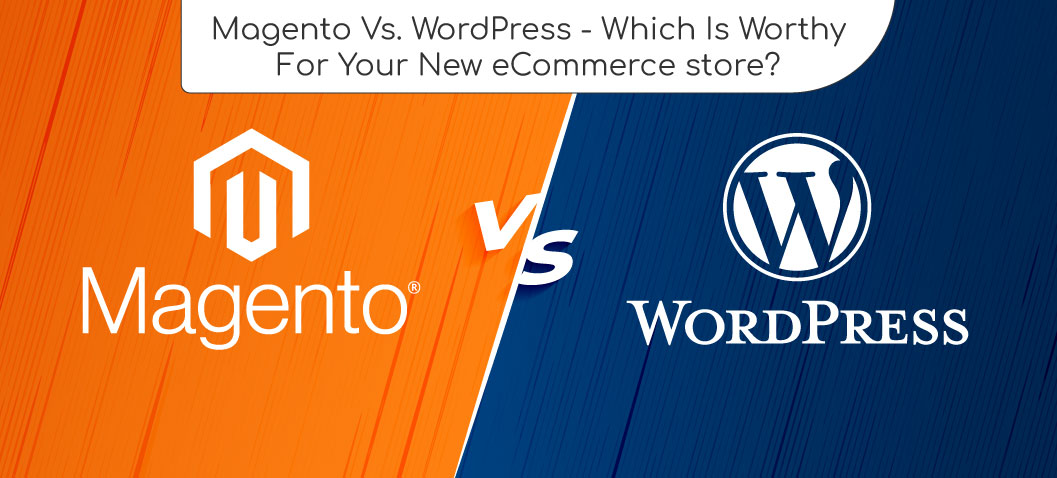 Whether you want to convert your website into a fully-fledged online store or want to develop it from scratch, choosing the right CMS platform is always a crucial decision.
Both Magento and WordPress are incredible, user-friendly, SEO-friendly, customizable, and intuitive open-source CMS frameworks that will help you incorporate eCommerce functionalities to grow your business across the digital landscape. While they share some of the basic features, there are some key differences that set both the platforms apart from each other and we bring you the comparison between these two platforms. We will try to find out which one is the best option for setting up a robust eCommerce site.
Meaning
WordPress
WordPress is a fantastic CMS that comes with hundreds and thousands of themes, plugins, and other inbuilt tools to let you create anything – whether it is a personal blog, portfolio, e-portal, or an eCommerce site. 
Magento
Magento, on the other hand, is a full-fledged eCommerce development platform that comes packaged with a whole range of eCommerce features to help you create a professional eCommerce store from scratch.
Ease of use
WordPress
WordPress is one of the easiest CMS platforms that comes with a large number of user-friendly eCommerce plugins which helps you to create, tweak and customize a web store for generating higher leads for your online business.
Magento
Running the core Magento site is quite complicated as compared to WordPress. If you are a beginner, then you will face a lot of challenges in terms of managing multiple product categories, product pages, checkout processes, etc.
By differentiating Magento vs WordPress to simplify your development process, you will need to hire a reliable Magento development company that can help you build a successful web store.
Security
WordPress
When it comes to security, WordPress loses all the points. Being one of the most popular CMS platforms, it is more vulnerable to hacking attacks and other security threats. Plus, adding too many eCommerce plugins could make your site even more vulnerable.
So, make sure you research thoroughly before opting for any third-party plugin because it could have some insecure code that can destroy the security of your website to a great extent.
Magento
Magento is known for its robust security and highly-fortified features. Since it offers a limited collection of extensions, you don't need to worry about insecure code or any other security loophole. You just need to ensure that the extension you are installing is reliable and developed by a professional developer.
Takeaway:
Deciding the ideal option for your online store on the basis of features would be difficult. While WordPress is a simple, user-friendly, customizable, and flexible CMS platform, Magento is a core eCommerce platform that allows people to build highly interactive online stores from scratch. To make your job easier, we will decide the best option on the basis of your specific business purposes.
First, understand the ultimate purpose of your web store
You should know the goal of your web store and the nature of your business if you want to:
Create a web store for digital products
If your purpose is to see virtual products, then WordPress would be an ideal solution for you. Why? It's because you don't need to integrate any complicated shipping arrangements, delivery options, tracking of orders, etc. 
Build a multi-vendor marketplace
If you are creating a website where you are selling hundreds and thousands of products and services online, so need a more dedicated platform like Magento. Magento has all the features and functions that can help you set up a professional-looking eCommerce store from scratch.