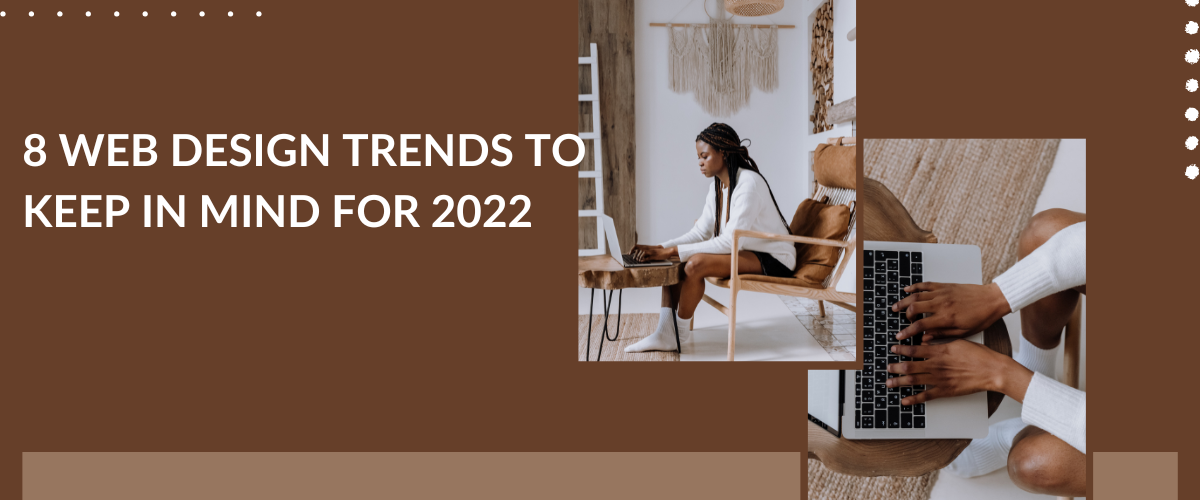 8 Web Design Trends to Keep in Mind for 2022
A fantastic website design supports user needs while establishing a powerful online presence for your brand. User-friendly navigation, top-notch data security, and quick load times are among the web design principles that are indisputable and should come as standard on your website.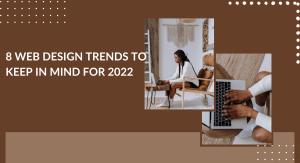 You cannot rely solely on pre-made templates to outperform the competition given the millions of business websites that are now online. Use these top web design trends as inspiration to differentiate your own website from the competition.
Blocks of color
A simple method to add flair to your website while keeping things straightforward is to use color blocking. Your website, documents, social network accounts, and collateral should ideally all use a small number of chosen brand colors for cohesiveness.
Picking a few lighter and darker brand colors can provide you with more design alternatives, therefore it is recommended to do so.
Your brand's colors should ideally complement one another so that you can combine diverse tones without them becoming garish. In this case, color blocking is useful.
Color blocks can be used to divide up text, frame graphics, and photographs, or serve as attention-grabbing backdrop elements on your website.
Scrolling horizontally
In contrast to the well-known and simple vertical navigation, a side scroll style can make text and images interact in ways that you might not expect. It is one of the popular web design trends that you should consider. 
This is especially true for sites that offer portfolios, catalogs, maps, and other similar things. Sideway navigation makes finding projects, exploring towns, and visiting online galleries much more interesting.
Gradients
The following web design trend has been in and out of style for many years, but it appears as it will definitely return again.
You probably recall learning about gradients in school, which are the slow changes from one color to another that practically result in the creation of a new color. So, in a market with so much competition, it seems like a relatively fundamental technique to use in website design. Wrong!
Making new color options available, though it may seem simple at first, makes objects stand out on a page, adds depth to the design, and ultimately gives the object or image a sense of realism. Gradients are employed by web designers in a variety of methods that are distinctive and eye-catching, making sure they're bright, fun, and create visuals that people aren't used to seeing.
Fun with Claymorphism
Claymorphism gives your website design a whimsical touch while also making it more approachable for website visitors. This design adds a Claymation twist to your avatars and other images, elevating them to the next level. The combination of sharp shadow work, bright pastel hues, and bubbly edges result in a style of art that transports viewers to a more carefree era.
The elements of claymorphism can color your entire homepage or only fill in the areas around your images. By making them stand out from the rest of your design, they even assist in elevating your navigation buttons.
Brutalist Typography
It is possible to see brutalist typography as a response to the optimism, lightheartedness, and minimalism of contemporary web design. a brazenly rough aesthetic that stands in contrast to the more refined modern conventions.
A website's urban feel can be achieved by using typography to create a dynamic grid, as building blocks for segments, sections, headers, and paragraphs, or simply as a method to let your hair down throughout the entire page.
A single page that rules them all
People today need immediate solutions to their daily problems since they are busier than ever. Therefore, when it comes to doing customer research, a basic, one-page website design is preferred. Without any detours, the one page takes your target audience from point A to point B while quickly providing them with information about your goods and services.
To really make this work, you must cut the fat by writing material that is clear and succinct from beginning to end. By doing that, you provide your clients with all the information they require upfront, enabling them to quickly and intelligently decide which products to purchase.
Design based on a story
Allowing your content to tell your story—rather than just reiterating your company's history—is one of the main components of content marketing since it draws readers in right away. Your website should be consistent with the aims and narrative of your company, offering consumers an immersive experience that will compel them to stay on the page, browse through it, and participate.
In general, storytelling refers to the act of conveying a moral lesson or a narrative with distinct characters, a storyline, and a point of view. A website that tells stories uses the same strategies to present a narrative about the highlighted business, item, culture, or phrase.
Text and symbols created by hand
Hand-drawn site parts have recently emerged as a legitimate website design trend, thanks to technological developments and the fact that it's simpler than ever to get in touch with a skilled designer online.
We're not talking about illegible text and crude sketches made in Microsoft Paint. The hand-drawn text and iconography of today seem professional, creative, and on-brand.
Using software tools, designers frequently make hand-drawn pieces that can be easily copied and reproduced. Ensure that you can access your hand-drawn files so that you can reuse them for marketing materials, merchandise, social media, and other purposes.
There are several online companies that can help you in updating your website. They focus specifically on your user experience and build a website that is completely user-friendly. If you are updating a website on your own, always keep the best practices in mind and set a vision for yourself, start working around it, add some of these amazing web design trends, and give your users a better experience.