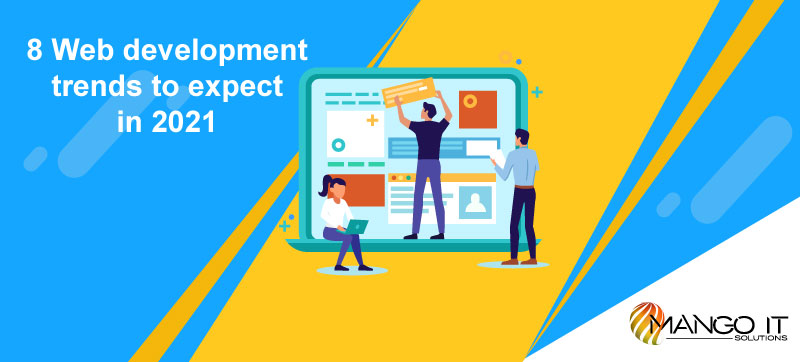 8 Web Development trends to expect in 2021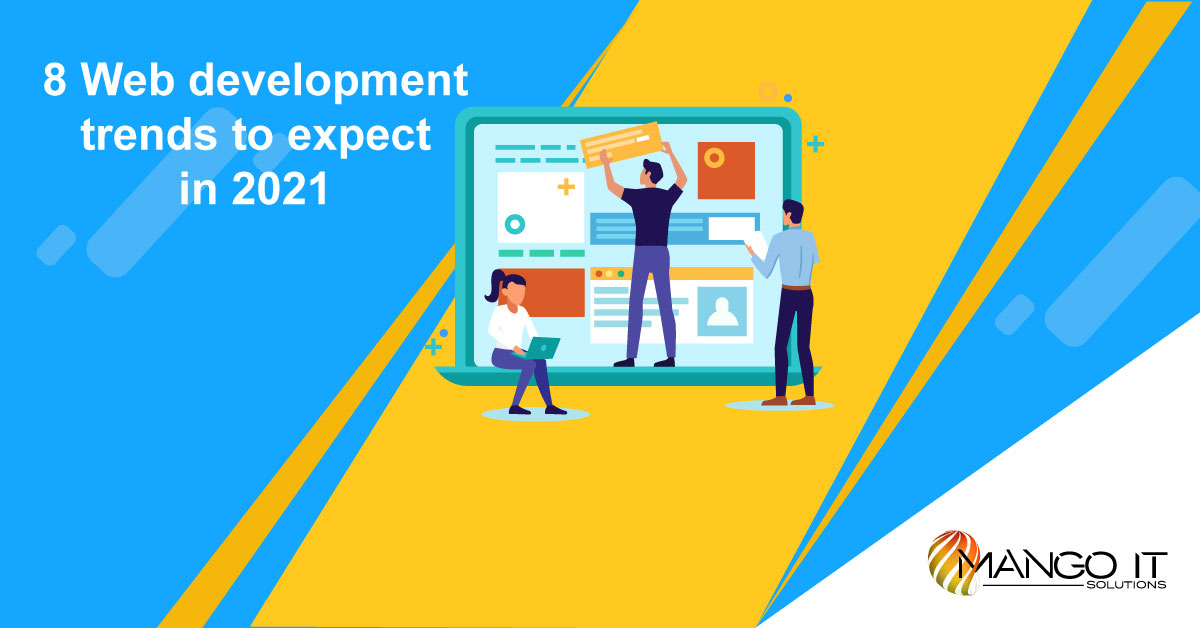 Web development is one of the most changeable and dynamically growing industries, so catching proper Web development trends and following them seems crucial. It is essential to keep an eye on the latest techniques and updates not to lag. A new year has started, and it's high time to analyze and outline top web development trends relevant in 2021. Here are several of them that are assumed to be the most significant and worth paying attention to
(PWA) Progressive Web Application
PWAs act like native mobile applications but are actually websites. They are all about Easy navigation, smooth working, less loading, and fast responsiveness. According to studies, PWAs have 36% higher conversion rates than native apps; therefore, we can see them trending going forward. No doubt, PWA is not that new. Although, it is the talk of the town since it arrived and it is going to dominate 2021 as well. The main objective of PWAs is to bring a mobile-app-like experience to users across all devices.
Some of the biggest companies like, Amazon, Twitter, and Forbes, are combining native and web applications to increase conversions and decrease bounce rates. They not only are fast and load instantly, but they also allow users to use services offline, while performing all the functions of a native app. As they are highly mobile-friendly, there is no doubt demand for PWA will continue to grow throughout 2021.
Some example of services using PWA :
Dark Mode & Low Light UX
Websites with dark mode and low light user experience have been a trend for the last couple of years. This trend will continue to dominate in 2021 as well. Dark modes look great even when the visitors are browsing it in daylight. 
Furthermore, we will see more websites that exhibit an option to switch between the dark mode and light mode user interface. For now for some applications and websites users need to visit the settings section and change the mode. The future would have in-built choices. Not just this you could fix when you want to use the dark mode and when the light mode needs to be switched on. If someone is visiting the site at night, he can switch to dark mode, the way some mobile apps offer this functionality. This feature will grow in 2021 to become appealing to the end-users. 
AI-Powered Chatbots 
Demand for AI-powered communication will be on the rise in 2021. Websites will be more focused on building AI-powered chatbots and virtual assistants for improved customer experience. 
Chatbots may be underrated, but they are convenient and can instantly engage users once they land on the web page. They provide users with fast responses, which can help businesses to avoid delays and customer drop off rates.  
Bots are trained on data collected from users through a series of engagements, which allow them to provide better solutions. Moreover, they use natural language programming to create interactions with humans. 
Speech recognition techniques and cognitive intelligence are combined to make chatbots more reliable than human support staff. Global industries such as eCommerce, travel and tourism, healthcare, etc., are realizing the importance of chatbots.
WebAssembly
The first thing that must not be neglected when developing a web application is performance. Now, JavaScript limitations make heavy calculations slow. That significantly worsen the user experience.
This is one of the main reasons for the rising popularity of WebAssembly. With this technology, the code in any programming language can be compiled into bytecode, which runs in a browser.
WebAssembly is an open standard that defines a portable binary-code format for executable programs, and a corresponding textual assembly language, as well as interfaces for facilitating interactions between such programs and their host environment.
Single Page Application (SPA)
 Nowadays, with high-speed Internet standards, there is no need to be stuck on an approach where every action made on the page like clicks on various buttons leads to one more web page downloaded from a server. 
SPAs gained their popularity due to the rise of JavaScript frameworks. Working with them you intercept particular browser events and request JSON which looks like working with a web application. Google pages like Gmail, Google Drive, or Google Maps, as well as social networking platforms like Facebook, are of that kind. Current web trends observation makes it clear that in future most functional websites will be constructed as SPAs. 
SPAs have more chances to hold users' attention as they seem to be fast operating — SPAs provide users with instant feedback (compared to regular sites with their white screens before the page will be completely downloaded). Single-page sites also consume less and could work without server-side code at all (API technology).
Voice Search and Navigation
Well, voice search and navigation are going to be one of the most dominant web development trends in 2021. They are already a part of our daily routine. They are super awesome as they kind of made it easy the way we search for information, take notes, and so on.
Brands like Apple, Android, and Google implement the trend in their UI/UX design process. So, this rapidly emerging trend isn't something you can ignore…!!
Google reports that 27% of the online global population is using voice search on mobile.
Voicebot.ai reports that over half of all adults have used voice search, with 33% using voice search monthly in early 2019, jumping up from 25% in 2018.
By implementing Voice search and navigations in web development, you can make sure your service delivers an amazing user experience.
3D Visuals
Three-dimensional (3D) visuals and elements have always been something that pleases the visitors. To integrate 3D visualizations in web development was an expensive deal, which kept this trend on toes throughout the years. However, things have changed now. There are new technologies and development frames using which 3D elements can be added to sites at an affordable cost.
With time as virtual reality (VR) becomes a norm and cost-effective, more websites and blogs will get powered by realistic 3D visuals. Such elements lift the elements on the screen and create an enticing user experience. Let your customers enjoy the fascinating technology that is making its way in the mainstream.  AR/VR has emerged as the new web technologies 2021 and is helping organizations build strong ground.
In 2021 and over the next few years, 3D visualizations will be one of the most trending things in the web development arena. Not only gaming sites but also business websites will be leveraging this trend. 
Motion UI
When discussing current web development trends, motion UI is quite popular. This is because of the smooth animations on a website that powers a stylish look and feel. Along with the look & feel, the motion UI trend is also compatible with other web technologies. 
The motion UI can be added to multiple elements of a site, including headers, menu bar, scrolling, hovers, backgrounds, etc. This makes the website fun to browse while bringing important elements into the focus of the user. The content and page hierarchy can be set accordingly so that the visitors don't get distracted in heavy gradients and see what's more important. 
Smooth animation and motion UI are already a trend in 2020, and this will continue even further in 2021. 
Wrapping up:
2021 will be all about fast, clean, and eye-catchy websites. Every website developer and web development company should keep themselves updated with the latest trends to ensure that they create relevant sites. Traditional websites should look for transformation to modern, mobile-friendly, and appealing designs.
No one can predict what the future holds for us, but with technology evolving almost every day, we know it is grand and fascinating. When you reach to the best web developers, make sure they use the latest web development trends in their solutions. These are to keep you ahead of your competition and help you earn a reputation for being updated.