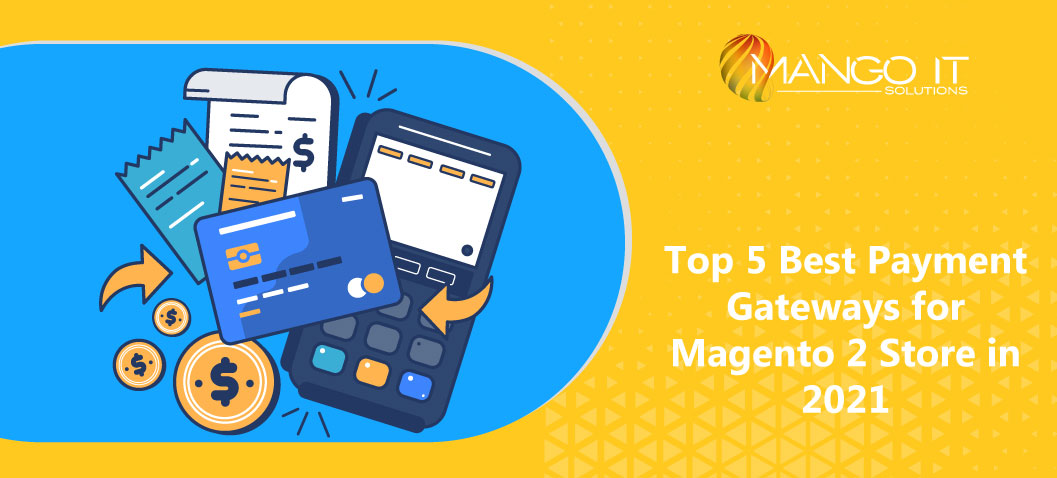 Top 5 Best payment gateways for Magento 2 Store in 2021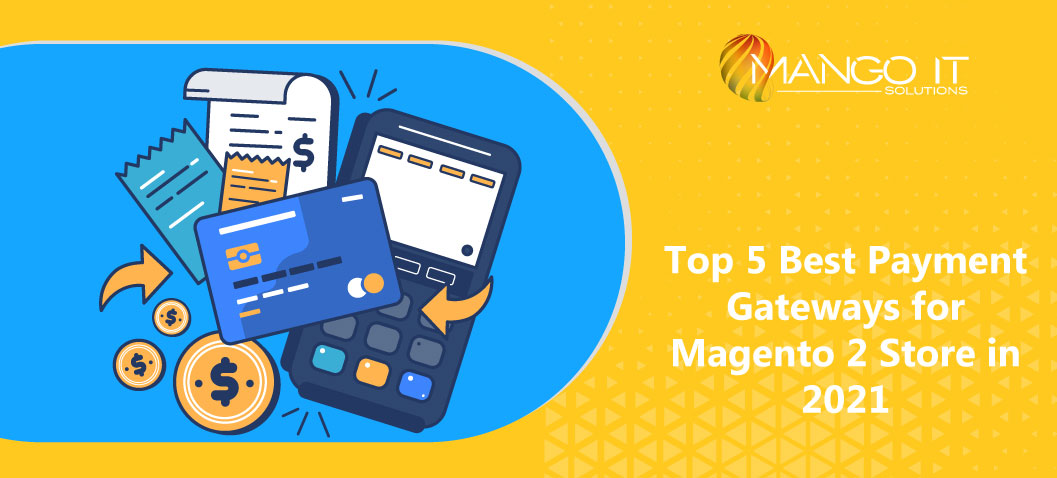 The efficiency level of an e-commerce store can be measured by customer satisfaction throughout their journey on your online store. When it comes to running an e-commerce store based on Magento, picking the right payment gateway is hugely important. A smooth check-out will undoubtedly provide customers with a pleasant experience of your Magento store. 
Magento 2 platform provides different payment gateway options from which you can choose to integrate as per your requirements. But what challenges Magento store owners is to wisely select the one optimal payment gateway to integrate from a wide variety of alternatives that addresses your business needs.
With years of experience in the eCommerce field, We address the key aspects to consider when deciding which payment gateway works best for your Magento store.
Top 5 Payment Gateways for Magento 2 Store
1. PayPal
PayPal is undoubtedly the most widely preferred payment gateway because of its excellent reputation for secure payments. Moreover, PayPal gained trust from over 218 million customers and 17 million merchants worldwide. 
PayPal is, without a doubt, the most significant payment gateway in the eCommerce vertical, and one of the best benefits of using PayPal is most people already have a PayPal account, which makes the payment process a lot easier. 
In Magento stores, Its express check-out button allows customers to enjoy a seamless check-out process. If you need to integrate PayPal into your Magento store, let us know.
2. Stripe
The second payment gateway that can compete with PayPal is Stripe. It was created to run businesses smoothly and accept payments quickly. 
Stripe payment gateway is available in 25 countries and supports up to 135+ currencies, and accepts all major credit cards along with Alipay, Bitcoin, Apple Pay, Bancontact, and Android Pay. 
Stripe has features such as mobile payments, subscription billing, and one-click check-out. We highly recommend this payment gateway, especially for international sellers. 
3. Authorize.net
Authorize.net is a trusted payment gateway solution that is used by more than 440,000 merchants all over the world. It has security and safety specialties like CVV verification and an advanced and excellent scam detection suite. It manages and collects clients information with vital protection utilising its CIM (Customer Information Manager) component.
Authorize.net covers the work of the whole staff, organised and stores data which will help you find frauds without constant check. It has won small and medium-sized companies' trust by providing an affordable and secure payment service.
Authorize.net also supports recurring payments, and the Simple Check-out feature makes it easy to integrate into your check-out process.
4. Braintree
Another payment solution provided by PayPal, Braintree, is an all-in-one payment gateway service suitable for firms and businesses of all sizes. It was acquired by Paypal in 2013 and is used by renowned companies like Airbnb and LivingSocial. 
Braintree enables creating a seamless and secure check-out process at a reasonable cost in your Magento store. It also allows businesses to send, accept, split, and process the payment as per their needs and maximising their revenue. As a part of a well-known payment provider PayPal, Braintree, provides in 40 countries and supports 130+ currencies.
5. Amazon Pay
Amazon Pay is a subsidiary of Amazon.com, which started its services back in 2007. Amazon Pay works by allowing customers to login and pay through their Amazon account, and customers can perform all transactions on-site with just one account. This process augments buyer loyalty and reduces cart abandonment.
Amazon Pay can bring exponential improvements in the conversion rates for Magento stores because of its faster check-out capability. Moreover, Amazon's fees are transaction-based, and there is no monthly and license subscription to worry about Amazon pay.