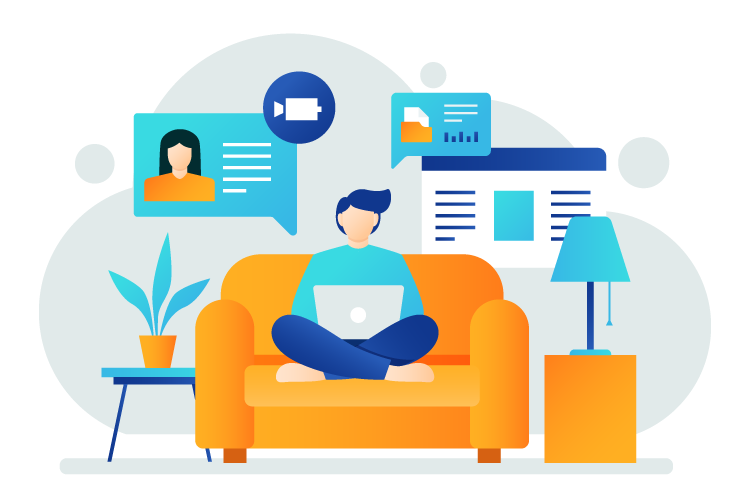 Mango IT has always cared its employees like a big extended family!
We give our employees an opportunity to work from home ensuring employee's safety and criticalities at the need of the hour however ensuring business continuity but more effectively and productively.
Our work from home policies
​Transitioning from an In-Office team to a fully functioning Remote team seemed seamless. The employee-oriented and health-focused approach of the organization strengthened our bond even further!!​

A dedicated work place and necessary setup with a Machine, Internet, Headphones

Employees get dressed just like they do for office to get into right frame of mind

Even when we are working from home, we ensure that we work business as usual

Real time reporting centrally maintained using Project Management Tools

TAKING BREAKS & EATING HEALTHY ​
We take regular breaks to maintain our most productive selves & eat proper meals

MAINTAINING CONFIDENTIALITY
We ensure viewing confidential information on secure devices, VPN and access to authorized personnel
Maintaining communications through wfh
Discipline is the key to Work from home and a wonderful opportunity but time and communication management can be a challenging! Staying connected to your colleagues always helps in remote working culture; only simple steps proves it worth a while.

WORKING IN SHIFTS
Teams' works in shift to have overlaps with our clients schedule to reduce turnaround times.

MINUTES/NOTES
We ensure notes circulation having action items, ownership with timelines to ensure task completion

USING CHANNELS
We use Skype/Cliq to keep in touch, maintain clear communication with co-workers.

NOTIFICATIONS
We keep our notifications on so be reminded and not missing a minute of the meeting/channel discussions

FOCUS
We recommend selecting Quiet spots for taking meetings and client calls
We worked on something that we really cared about,
We didn't have to be pushed the Vision pulled us.​
​Being at Mango IT and working from Home; couldn't have been easier with our Process-driven approach, Project management tools, communication channels and high level of Trust has brought us even closer!! Keeping ourselves safe at Home, working in full capacities and high productivities doing seamless Web developments​.
Do you have an interesting project? Let's talk about that!