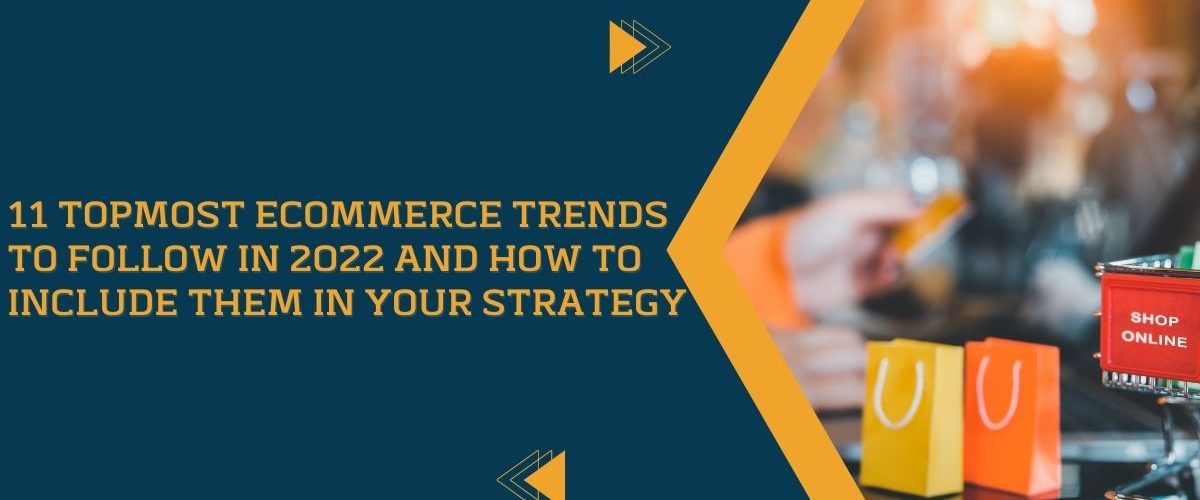 11 Topmost Ecommerce Trends to Follow in 2022
In the realm of e-commerce, things happen quickly. It's safe to state that the sector is always changing, with new trends and technology appearing on a regular basis. If you want to be competitive as an online shop, it's critical to stay ahead of the curve and stay up to date with the most recent e-commerce trends. This blog will discuss the top 11 e-commerce trends that you should know.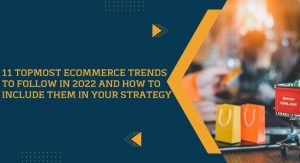 Best Ecommerce Trends To Follow
Below is the list of top eCommerce Trends that you should follow and include in your strategy. 
Here's the thing: augmented reality and the digital customer experience in retail are closely related in the near future. The inability of online shoppers to try on clothing and accessories or accurately see how furniture will appear in their home before making a purchase has long been one of the main issues for internet retailers.
This problem can be solved by dramatically enhancing the shopping experience with virtual and augmented reality technologies. Customers may preview how products will seem in real life using AR solutions, including how well a dress fits a certain body type, whether a sofa matches the wallpaper in the living room, how much room a table takes up in the kitchen, and other factors.
For e-commerce companies, user segmentation and pattern recognition based on browsing history provide enormous problems for automation and site personalization. Nowadays, intelligent algorithms are praised as the solution to such problems.
One of the most popular AI applications in eCommerce is image recognition, which has sparked the growth of visual commerce. 
Omnichannel tactics and conversational commerce
Chatbots aid in boosting client engagement, delivering tailored experiences, and providing quicker support. They can be utilized to route leads, provide answers to frequently asked inquiries, and promote items. The use of chatbots for direct sales is also a growing eCommerce trend, with almost 60% of millennials making purchases through conversational software for everyday items like food and clothing. Your frequently asked questions, making product recommendations, providing delivery details, and promoting deals.
Even throughout the real sales process, they may show to be successful. So take them into consideration as a reliable eCommerce trend to monitor in 2022!
Subscription-based eCommerce business models are becoming more and more common among customers and merchants. In essence, providers offer a range of subscription plans for their goods or services; clients select packages based on their requirements and preferences and receive them on a regular basis in exchange for regular (for example, monthly) payments. It functions exactly like a magazine subscription.
The distinction between B2C and B2B marketing is growing hazier, and by 2028, the worldwide B2B eCommerce market is anticipated to be worth $256 trillion. This is due in part to technological developments and the resulting decreases in prices, but it's also because these businesses are under pressure to keep up, and boosting their turnover online is becoming a more and more common strategy.
Online advertisements are increasing as more consumers move their shopping activities to online platforms. This is bad news for retailers because it forces them to spend more on advertising as a result of the escalating level of competition. However, while preparing budgets and marketing plans, this trend should be considered.
Seamless online purchases
There shouldn't be any obstacles to internet shopping in the current world. This implies that consumers should have an equal chance to purchase goods or services through every digital channel where a brand is present, such as a website, a mobile app, social media platforms, marketplaces, etc.
Page templates, backend code, and other clumsy elements that might slow down a website are eliminated by headless technology. The headless approach enables businesses to quickly improve the performance of their platform so they can better handle spikes in traffic or increases in sales volume without having to create new pages or otherwise use unnecessary resources for delivering an optimized experience. This is because consumer expectations are constantly rising.
Paying using a mobile device
The global mobile payment market is expected to reach a record $6.7 trillion by 2023, according to investment experts LearnBond, with Europe accounting for about 0.067 percent of the total.
Mobile payments like Apple Pay, Samsung Pay, and Android Pay are incredibly convenient for customers. Customers trust their security credentials, and they simplify transactions.
Busy, customer-focused online retailers like yourselves, also provide a number of significant advantages, including eliminating the need for manual data entry and increasing conversions by making the checkout process incredibly simple for customers.
Shopping for images online will become a new e-commerce trend. To purchase goods from an online store, users will point their cameras at the item they wish to purchase. There are several photo apps accessible, and this year, many more will appear. This pattern will also result in the sale of affiliate goods via photoshopping.
For instance, Pinterest recently unveiled its own camera. To give a precise product description, it recognizes and deciphers photos. It already has partnerships with numerous e-commerce sites and leading search engines. It gives them pertinent information they can use to categorize and evaluate images.
Mobile transactions are growing every year, according to online retailers from around the world. especially during the season of holiday shopping. Now is the time to make your website mobile responsive if you don't already have one. Nowadays, people spend more time on their mobile devices than on their laptops. 
It would be impossible to follow every e-commerce trend at once. Every company should adopt trends based on its own aims and the requirements of its customers. Only in this way may changes result in observable advantages.