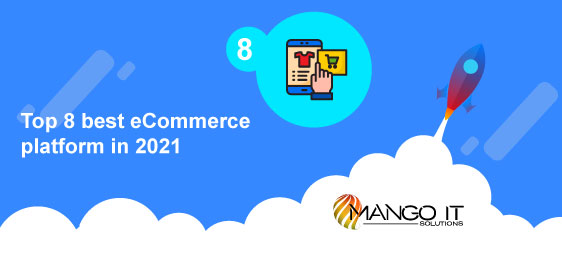 8 best eCommerce platform in 2021

Shopify (Best eCommerce platform)
Shopify was started in 2004 and is presently the leading ecommerce solution in the market, with over 10,00,000 businesses across 175 countries. Shopify is one of the best ecommerce platforms for beginners and small or medium-sized enterprises. Everything you need is already integrated into the platform: from storefront design to performance analytics to content marketing. 
Even if you've never built a website before in your life, and you're unlikely to get missed in Shopify's intuitive web app. Listing a product is as simple as taking them from the sidebar and then clicking the Add Products button. Next, fill in the name, price, the quantity you have on hand, and any other relevant details, change its status to Active, and it's straight in your online store and ready to be sold.
Because of the popularity of Shopify, you can also find more than 1,200 themes available on ThemeForest or get a professional designer who is already experienced with the platform to make you a custom one.
BigCommerce
BigCommerce was founded in 2009. As a leading open SaaS solution, BigCommerce gives sellers advanced enterprise-grade performance, functionality, simplicity, customization, and ease of use. As a result, tens of thousands of B2B and B2C companies across 150 countries and numerous industries use BigCommerce to create beautiful, engaging online stores.
BigCommerce also integrates with online payment processors like Stripe, PayPal, Braintree, and Amazon, and you can also configure your store to take payment by bank transfer, check, or money order.
It'sIt's also super simple to list your products on other marketplaces like eBay, Amazon, and Facebook, so customers don'tdon't have to buy directly from your store. In addition, BigCommerce will automatically import any products you've got set up and keep any changes you make up to date across all your channels.
Magento
One of the most customizable ecommerce platforms, Magento offers a vast amount of extensions and third-party integrations to give consumers unique shopping experiences. 
Magento today attracts some of the most prominent names in ecommerce, like Nike, HP Inc., and The North Face.
As an Adobe product, Magento offers the most customizable solution for large companies with plans to expand even further, and it is fully mobile-optimized. In addition, Magento'sMagento's open-source and hosted software is the best option for large companies. 
WooCommerce
WooCommerce is a bit different from the other platforms we've seen so far. It'sIt's an ecommerce plugin made for WordPress, as opposed to an all-in-one ecommerce platform.
But with nearly 80 million downloads, WooCommerce is the world's most popular ecommerce solution, and it powers almost 30% of all online stores across the globe.
Any website built on WordPress can be turned into an ecommerce store with WooCommerce, and it is free to download and install. In addition, you can customize your store by adding 300+ extensions from the WooCommerce Extensions Store.
Because WordPress administers WooCommerce, the customization capabilities of your online store are practically limitless. You'll only need to add features that you plan to use, so you won'twon't have to worry about anything else cluttering your dashboard.
 OpenCart
OpenCart is also an open-source platform. It is free to download, upgrade and use. Opencart has over 13,000 extensions and 36 payment methods to customize your site as you desire. However, you will need to secure and host the site yourself and have a developer familiar with PHP to design the website.
The platform is mobile-responsive, and you can choose from free and paid themes as a base. In addition, OpenCart has 36 integrated payment gateways. You can select any of these, such as Authorize.Net, Amazon Payments, First Data, Klarna, LiqPay, Skrill, PayPal, SagePay, and many more. 
Your online store's management is also relatively straightforward for managing products, customers, orders, tax rules, and promo codes. The Opencart dashboard summarizes your store's performance and gets a default sales report such as viewed products and purchased products, and this feature is already built-in.
Squarespace
Squarespace was built in a dorm room at the University of Maryland in 2003 as a primary platform for building and hosting blogs. In 2013, Squarespace added its drag-and-drop interface and ecommerce features.       
Along with selling products, Squarespace can sell gift cards, services, membership programs, create subscriptions, and book online appointments. Its combined email marketing features let users develop loyalty by offering deals and discounts. 
Squarespace keeps payment processing simple and allows customers to pay via PayPal, Stripe, Apple Pay, and Venmo. Checkout is streamlined and straightforward for quick transactions. In addition, easy social integrations enable products to be shared on Facebook, Twitter, Pinterest, and Instagram. 
Wix
Wix was founded in 2006, and today, the company has a staff of 2,700 employees worldwide and 200 million users in 190 countries. Wix enables businesses to build an online store effortlessly and more affordably than any other platforms out there in the market.
It comes with various professional templates, and the drag-and-drop editor makes it effortless to design a stunning ecommerce site in merely minutes. Setting up and running a basic personal website is free, but upgrading to a paid plan is the only way to unlock Wix's ecommerce features.
Wix offers a choice of just three payment processors: Alipay, Wix Payments and PayPal. Managing inventory, purchase orders, revenue generated, and conversion rate reports are handled through Wix's simple dashboard.
Weebly
Weebly was founded in 2006 to make it easy for anyone to build a personal website with just a single platform. In 2018, Weebly was acquired by Square, and now it boasts over 500,000 domains and a 12% market share in the website builder space. 
Weebly's intuitive drag-and-drop editor allows users to create a beautiful online store in minutes. Weebly leads users step-by-step to choosing a site name, set up a store by selecting a basic layout, adding pages, selecting fonts and colors. It also has built-in marketing automation features. 
Another pro is their product options. You can manage thousands of products, automate out-of-stock items, track inventory, and boost buying behavior. For small businesses with a simple website of fewer than ten pages and with some ecommerce functionality, Weebly is just fine.