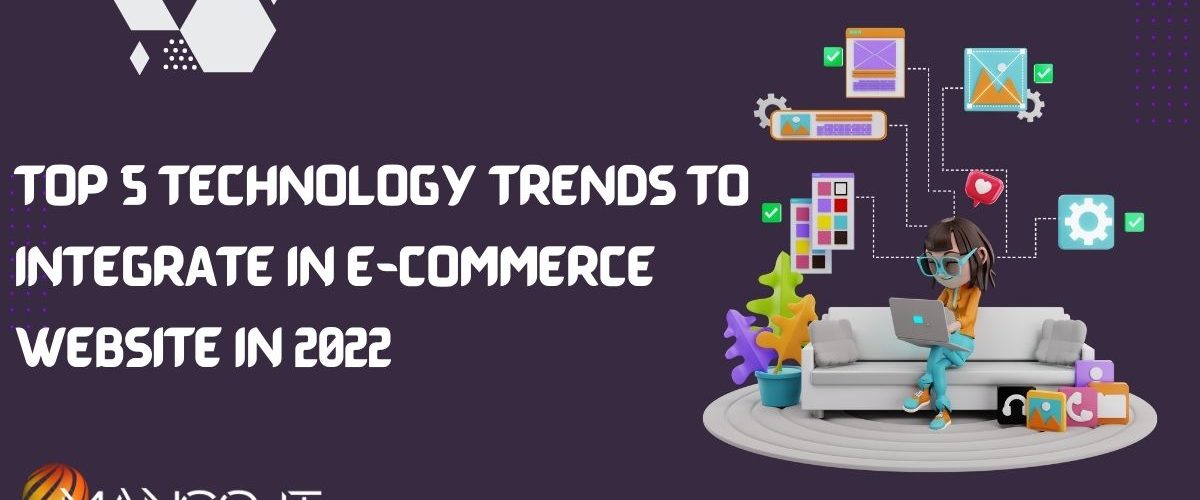 Top 5 Technology Trends to Integrate in E-commerce Website in 2022
Technology is king. With time and progress, the business sector adapts to stay ahead in a cutthroat competitive market. Online buying is influenced by e-commerce technological trends. Changes in customer preferences and the continual shift from desktop to mobile devices will continue to shape it.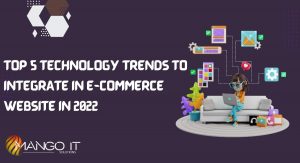 We recommend these five technology trends to integrate with e-commerce that will determine the future of this industry, whether you've been in it for years or are just getting started.


Progressive Web Apps (PWA)
A progressive web app is an online app that looks like a native mobile app. These solutions are built using web technologies including JavaScript, HTML, and CSS.
Alibaba and Walmart have employed PWA to enhance sales and conversion rates. But progressive web apps are ideal for SMBs.
PWA's main functions are:
Apps on the smartphone home screen

Offline app access

Push alerts

Here are some advantages of progressive web apps:
Reaching a larger audience
PWAs work on any platform and any screen size. They are easily accessible, which helps the e-commerce company.
Cheaper and faster growth
The PWA, as said, works on any platform. You can use Android, iOS, Windows, or Mac. Instead of multiple apps, develop one universal progressive web app.
Users value fast-loading web pages. According to Google, a site that takes longer than 3 seconds to load loses 53% of users. PWAs are meant to work instantly and seamlessly, even while not connected to the internet.
So PWAs are truly one of the most important technology trends to integrate into eCommerce websites. Use it in online purchasing to improve user experience.
AR (Augmented Reality) and VR (Virtual Reality)
This is because AR (Augmented Reality) and VR (Virtual Reality) are changing the way people shop online. Reasonably pondering AR helps shoppers envision things from online retailers, eliminating many of their real-world difficulties, while VR allows online stores to deliver exact and up-to-date product data, allowing customers to make smarter purchasing decisions. It has been predicted that over 30% of people will shop online if they can practically experience the product before buying it. And 22% of buyers will avoid brick stores if AR technology is available for shopping. Many businesses are adopting AR/VR as standard technologies for the products they deal with since these forecasts from recent surveys eliminate known or unknown impediments in online buying!! For this reason, we have added AR/VR to our list of top technology trends to integrate in eCommerce.
Adding AR and VR to your mobile shopping experience will captivate your customers and deepen their relationship with your brand.
Fast & Secure eWallet
An eWallet allows for a safer and faster checkout process. Do you know the value of the Checkout process in the e-commerce industry? This is the stage where money moves from the customer's account to the internet business's account. Cart abandonments occur when a potential customer is nearing the end of the checkout procedure.
Abandonment occurs because of unexpected increases in shipping prices, payment security concerns, and unsatisfactory return policies. The only question now facing e-commerce players is how to deal with it. An eWallet is the winning answer. One-page plus hassle-free checkouts, faster payment solutions, and ability to save the important details of your card are just a few of the features that make it an unbeatable E-COMMERCE trend (either DEBIT or CREDIT). Thus, an eWallet with precision and security in payments has allowed businesses to improve their scalability of services, security while reciprocating, and efficiency in bringing more and more devoted customers.
Using an eWallet not only increases sales and conversion rates for merchants, but it also increases customer security. Instead of entering credit card information on websites or handing it over to cashiers, several eWallets offer or require dual authentication.

Better CRM integration improves customer experiences.
Customers interact with online shops via online marketplaces, eCommerce websites, chatbots, email, and social media, all of which must be carefully controlled.
To stay up, online merchants are integrating eCommerce CRM solutions. CRM eCommerce connection improves customer experience and provides a central destination for customer data that can be utilized to improve marketing. Sales data can also help plan and forecast inventory. Automated data synchronization improves order fulfillment and communication timeliness.
In addition to built-in connectors and eCommerce CRM systems, online retailers frequently employ native integrations to connect their eCommerce tools to all data collection channels and systems. So they can offer a seamless customer experience across all platforms.

Chatbots are personalizing online shopping.
A chatbot is a computer program that mimics human communication. It can engage with clients instantaneously and address their problems across numerous platforms at any time.
Artificial intelligence is used by chatbots to infer customer preferences and provide a tailored online purchasing experience. It's no surprise that this media has become increasingly popular – and will continue to do so. A lot of eCommerce businesses are now using Chatbots for the development of their businesses.
Conclusion 
So let's prepare for the future. Soon, the eCommerce industry will see several new developments. Mobile platforms are now more important than ever in eCommerce. So, use this list of technology trends to integrate in eCommerce and prepare your eCommerce website for the year 2022.