Top 7 IT & Technology Trade Shows to attend in 2022
If you are a creator, innovator, or digital hustler, you already know how important it is to build a network and nourish it. Running a business altogether already consumes your schedule, but to progress and learn, connecting with the most successful leaders out there can help you refocus and rebuild your strategies to victory. Finding a way to do so is not always easy and can cost you a fortune. But don't you worry. We can get you access to the top professionals and get a sneak to the latest and mind-blowing technologies out in the world. To do so, here is a list of top IT Trade Shows 2022, which will not only help to bring your business to highlight, but perks around to make it 10x better.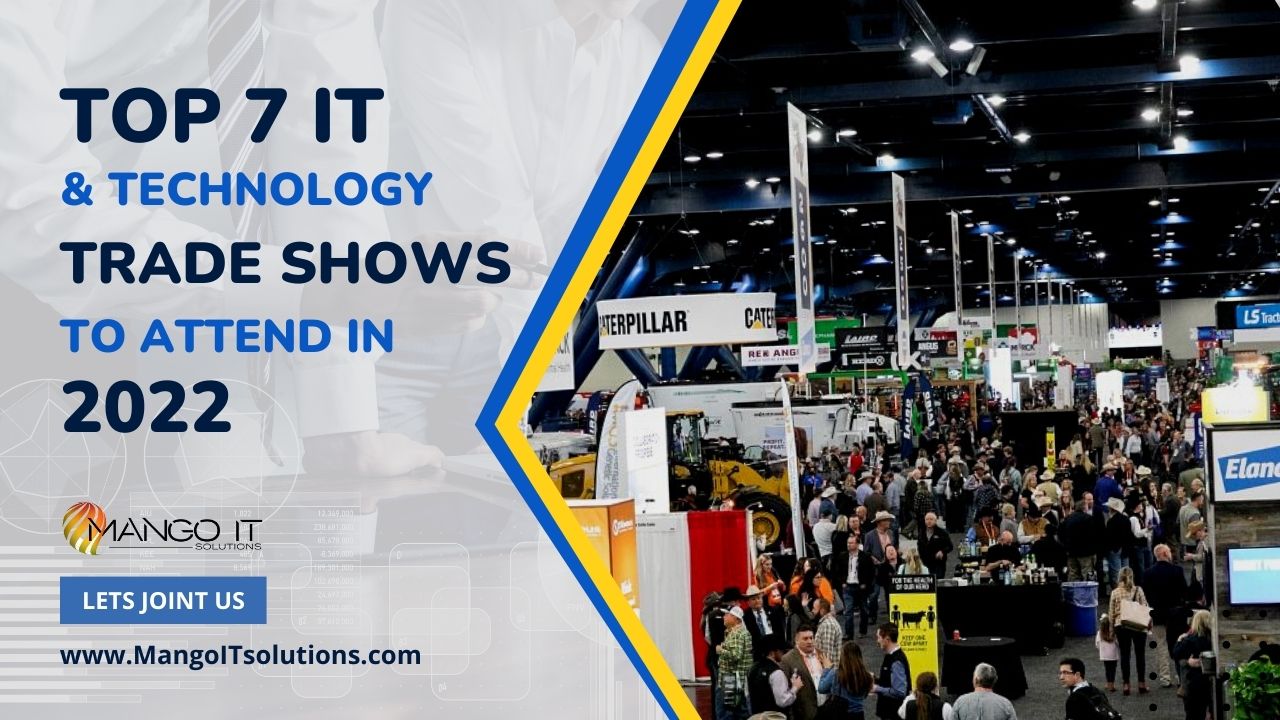 These seven IT Trade Shows 2022 will help you revolutionize your Digital business Worldwide.
1. IRCE Internet Retailer Conference – RCE Internet Retailer Conference
Held in McCormick Place Chicago, this annual trade show gives you access to some amazing national and international Internet, E-commerce, Online Marketing, and many annual trade shows. IRCE brings you a large display to 600+ companies on a ground of 250,000-square-foot, declaring it to be the largest display of tech and services in the industry. 
Date of the event: 10 to 12 May 2022
Location: street South King Drive 2301, Chicago
2. GITEX 2022
GITEX 2022, one of the most awaited IT Trade Shows 2022 holding place in Dubai. GITEX is a leading electronics and computing trade show in addition to a conference and exhibition. Held each year since 1981, it brings some of the best-in-industry leaders from worldwide to showcase their contributions to accelerating transformation. The event is co-located with Future Blockchain Summit, AI Everything, FinTech Surge, Marketing Mania, and North Star. Participants have actively started booking their accommodation near the center, and we highly recommend you too!
Date of the event: 10-14 October 2022 
Location: Dubai International Convention and Exhibition Centre
3. CEBIT Australia
CEBIT is a new wave to bringing digital transformation promoting and bringing together all the technology industries from around the world. Offering the visitors and participants a seminar to introduce them to gadgets and current technologies, making it one of the best IT Trade Shows 2022. If you would like to connect with a room full of potential buyers and clients at one place, CEBIT is for you!
Date of the event: 30 Mar 2022 – 31 Mar 2022
Location:  ICC Sydney – International Convention Centre Sydney
4. TECHSPO:
If you fall into business professionals, geeks, sales executives, marketers, investors or entrepreneurs, this can be your go-to expo. One of the reasons this being one of the best IT Trade Shows 2022 is that it will inspire, emerge and bring you expertise while collaboratively sharing some very good insights with you. If you wish to discuss and enhance your ROIs and find some amazing work opportunities, we highly recommend you to attend this trade show! Although they have some upcoming events planned for the rest of the year, here are the details to the next one:
Date of the event, March 22-23, 2022
Location: Stadium Australia, Sydney, Australia
5. MWCLA:
Being North America's most influential and largest connectivity event, MWCLA has made to one of the best IT Trade Shows 2022. In partnership with CTIA, MWCLA brings you one-of-a-kind trends into mobile innovation and connectivity. Discover the technology and trends while building some strong connections with leaders worldwide by joining them. Let yourself reinvent, reconnect and reimagine with MWCLA.
Date of the event: 28-30 September
Location: Las Vegas convention center, Las Vegas
6. eCommerce Expo:
Bringing in 300 industry solutions and connecting you with 10,000+ brands and retailers, the eCommerce expo might be the biggest IT Trade Shows 2022. This 2-day session will connect you with agencies, brands, and media owners while discussing solutions and services which are non-negotiably important for your business strategy. If you wish to cater to your 2022 goals, eCommerce Expo can be your go-to guide.
Date of the event:  28 – 29 September 2022
Location:  ExCeL London, London
7. DTX 2022:
Taking place at the same place as the eCommerce Expo, DTX is planning to bring heroes who are leading and managing some of the most transformational IT projects worldwide. Not just connections and networks to the best-in-industry leaders, DTX also brings you solutions and insights from these achievers starting from tactics, strategies, adoption, and transformation of your business!
Date of the event: 12-13 October 2022
Location: ExCeL London, London
These were the most trending IT Trade Shows 2022 that you can be a part of to revolutionize your journey! Let us know your experiences later in the comment section! 🙂