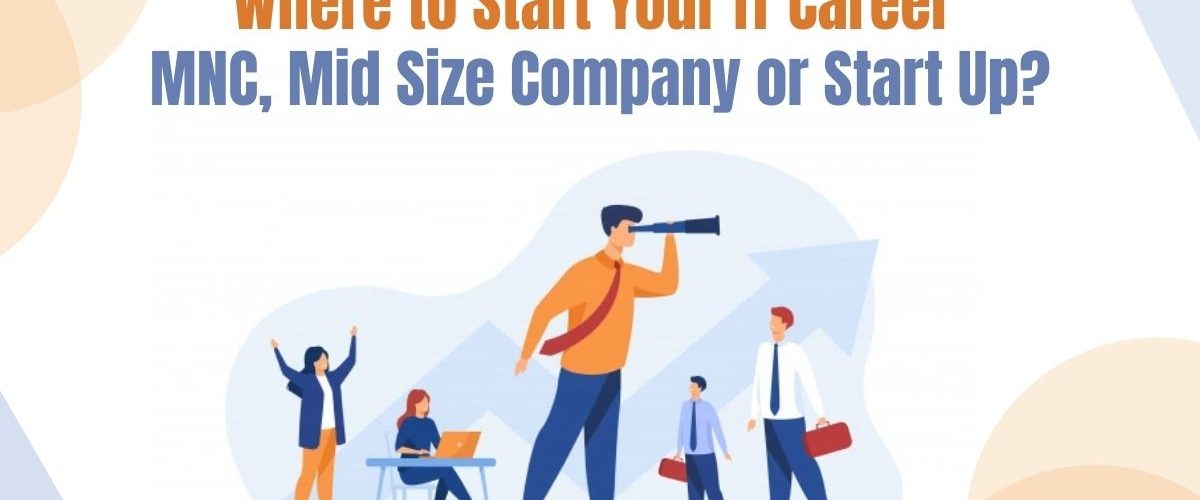 Where to Start Your IT Career – MNC, Mid Size Company or Start Up?
'I have two job offers in hand, one from an MNC and the other from a startup. I am confused about which one to choose.' This is one of the most common questions young professionals have these days. They are too unsure about which option to go with, often ending up making the wrong choices. I feel they are not sure about the parameters to judge the company on. So, to make a young professional's life a lot easier, we have covered everything they need to know to make the right choice.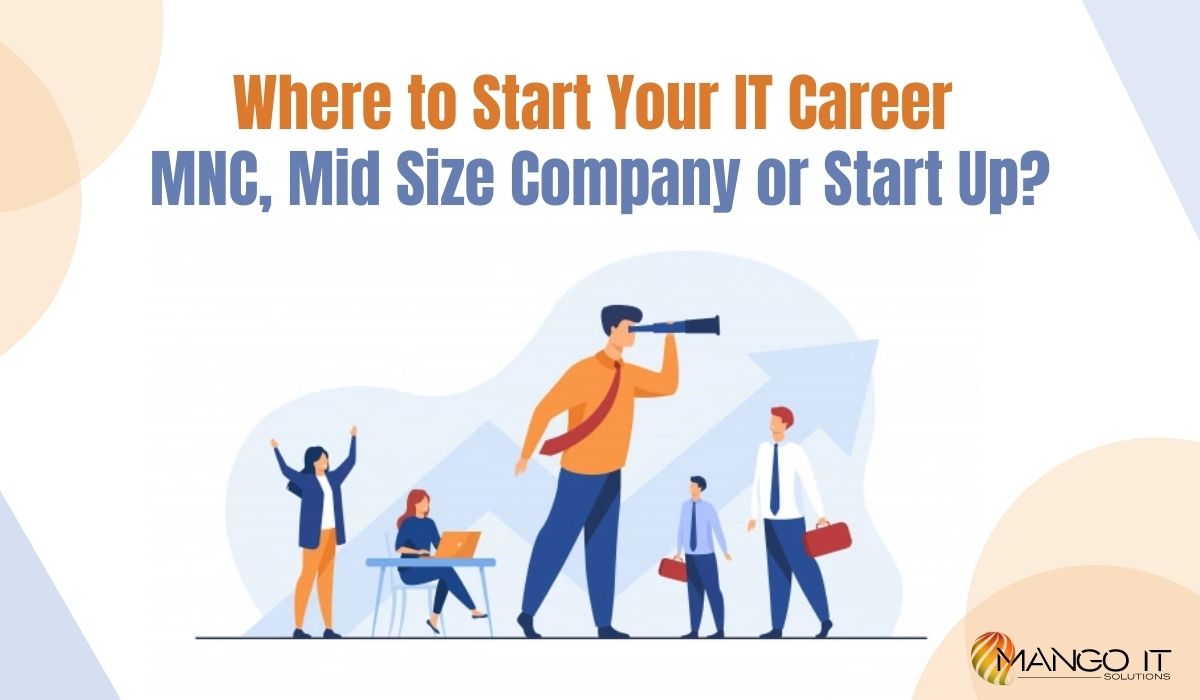 And we have a surprise for you as well. So, stay tuned until the very end to find out what it is.
MNC vs Mid Size Company vs Startup – Making the right choice!
Learning Curve
In an MNC, sometimes, the work you do might go unnoticed regardless of how significant it was. The task you do is merely a part of a more significant process of the company. The chances of you being aware of the whole process are pretty less. 
On the other hand, in a startup or a mid-size company, you play a major role in whatever process you're involved in.  You will always work closely with the innovators and the creators of the business. The learning curve is broad and steep, and you may feel overwhelmed by the opportunities at your disposal. 
Recognition
Undoubtedly, a mention of an MNC gives a huge boost to your resume. It probably sets the tone for your career from the word go. You will probably be working for a company that has made a difference in the lives of millions across the globe. This brand recognition gives you recognition and boosts your market value.
While a lot of people in your circle wouldn't have heard about the startup or mid size company that you might be working for, it's really worth working there. Although these companies have low brand recognition, they add a lot of value to your skill set. And at the end of the day, it is all that matters.
Culture
Working in an MNC is all about being in a strict working environment where you interact with your colleagues only in the breaks and after office hours. It somehow restricts your creativity and you're bound to work as per the set process of the organization.
Contrastingly, a startup or a mid-size company ensures that you are at your absolute best in every aspect of work. These companies usually have a lively and fun-filled atmosphere. Even though it's not always fun and gaming, startups and mid-size companies are known for a favorable working environment.
Our Surprise!!
Like a lot of young professionals out there, are you also convinced that working in a startup or a mid-size company is the better option? If YES or  even if it is a no, we have something rolling for you. An opportunity to begin your career with a bang in the world of web development. 
An opportunity to get your hands dirty with some of the buzzing web development technologies. An opportunity to work closely with the project leads and the CTO and learn from their experience and expertise. We facilitate you with a working culture that helps you evolve as a seasoned IT professional. What others will learn in 3-4 years of time, we make sure that you do the same in half or less time. And all of this while you enjoy being at work.
Here's your VIP pass for becoming a top IT professional from the word go: www.mangoitsolutions.com/jobs/jr-web-developer
EndNote
No matter what company you're working with, there will always be some advantages and disadvantages to it. While startups and mid-size companies are known for the exposure they offer to its employees, MNCs on the other hand instill a sense of discipline within you. Where on the one hand, startups & mid-size companies offer their employees' amazing perks and flexible working hours, MNCs provide you better recognition. So, before jumping to any conclusion just weigh out all your options and may the force be with you!