Mango IT Appreciation Award – In Recognition For Your Passion & Commitment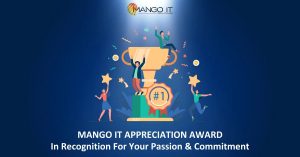 What makes an average employee a great employee is how well he's treated and guided by the organization he works in. For a job seeker who wasn't even considered good enough for sitting in an interview turns out to be a valuable asset if mentored the right way. And Mango IT Solutions as an esteemed organization in central India lives by that fact. We've curated a junior web developer position for the very same reason. 
Mango IT Solutions takes pride in giving these ever-enthusiastic people the chance they deserve. We facilitate them with a platform that opens doors of endless opportunities for them. Because we believe in turning their dreams of being regarded as an expert web developer in the IT industry into a reality. All we do is nurture their potential while they pave their way towards glory.
A Dream Journey
Ever since a fresher embarks his journey in the same role, we assign a dedicated mentor to them to make sure that learning journey is a smooth one. The mentor ensures that the growth of the employee isn't hindered at any point of time and their journey towards becoming an expert is a fulfilling one. Because we abide by the fact that team work makes the dream work. Even the silliest of doubts are welcomed by the mentors and cleared with utmost diligence.
Rack up your Tech Stack
While there's always a broader perspective to web development technologies, we ensure that a fresher leaves no stone unturned during their journey. We ensure that during their journey they become an expert web developer getting hands-on every technology there is to explore. These include HTML, responsive web design, PHP, Javascript, JQuery, database, magento, wordpress, laravel, testing, and the complete Project Life Cycle. In simple terms, we engineer them to become a master of the craft.
Tighten Your Seat Belt & Start Your Career Journey With Mango IT Solutions
'Coz we make your dreams come true
In an industry that offers fierce competition, getting into the right organization is a real challenge for the job seekers out there. It is by far one of the most critical aspects of your career. It sets the tone for your entire career. And we at Mango IT Solutions are making sure that we develop highly-skilled professionals that position themselves as industry experts after a certain period of time. Meanwhile, we believe that it is absolutely important to recognise our valuable employees from time to time. Therefore, we show our appreciation and gratitude to all of them by presenting them with an Appreciation Award once they complete their bond period. Just to make sure that their enthusiasm and fire never becomes dull.
On top of it, the environment and exposure that Mango IT Solutions has on offer is truly unmatched. An environment that naturally brings out the best in every employee. We stick to our words of facilitating our employees with an ideal place to work at. Not only this, we are a future-proof company as we work on all the latest trending technologies of the IT world. Apparently, we provide compensation that is above par of the industry standards.  And our long-serving employees are a testament to our success as an ideal company to work in.
Parting Words
We are a company that is known for its best-in-class IT services and for giving our employees everything they deserve. From nurturing their skills to recognizing their commitment towards their work, we treat every employee equally and fairly. We've been known for giving freshers opportunities and helping them reach heights in their career journeys beyond their imaginations. And work-life balance is a real thing here. We ensure that you're both mentally and physically fit. Because for us, an employee is our most valuable asset.