eCommerce Interfaces – Update or Loose!!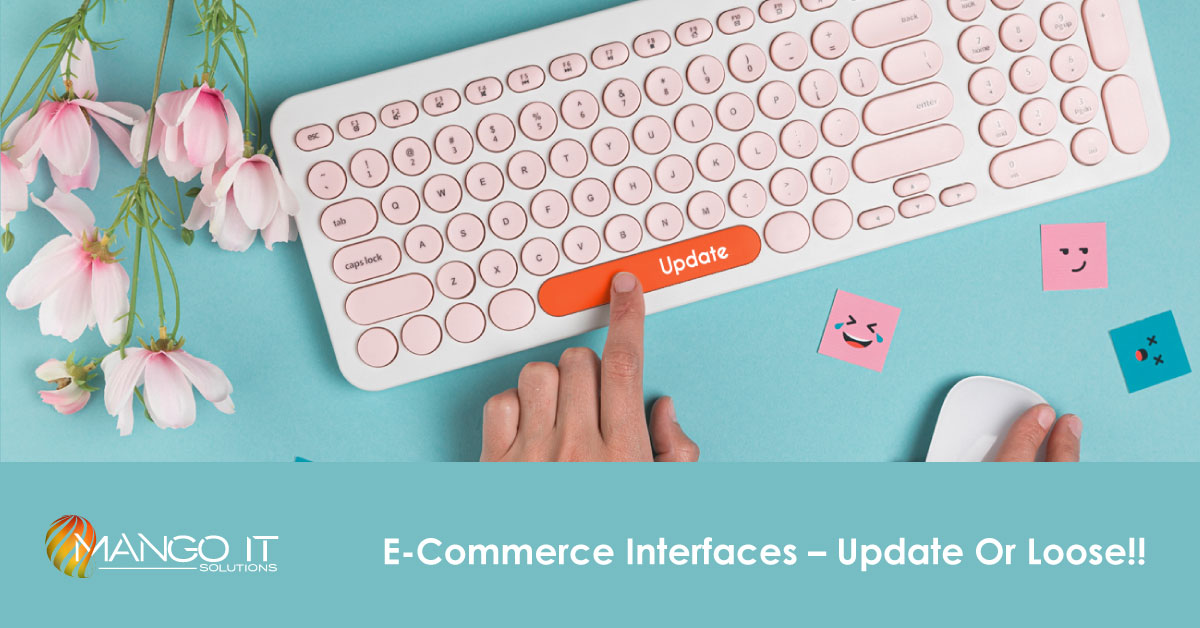 Heard of a proverb – "It's not enough to be up to date, you have to be up to tomorrow", applies so neatly in Technology trends today, Isn't it!! The Internet today is unpredictable and taken over by a sea of new features, new layouts, enhanced UX and incredible speed, helping the web to stay relevant and inspiring.
My millennial colleagues had already been using WhatsApp for at least 3 years before I started using it. They discussed emoji's, laughed around at the video circulated on WhatsApp, discussed their statuses and DPs. I felt so out-of-order, I had developed FOMO – Fear of Missing out!!. I was in dire need of updating myself, too much social pressure.
Logically if we keep updated we progress, people are awed by technology all the time and apply to businesses running online and here we will try to find an actual reason that calls for revamping an eCommerce website. While updating an eCommerce website you must be clear about what you expect to gain out of a redesign that you missed earlier.
Be it any eCommerce package you are on Magento, WordPress, Shopify, or a Solution tailor-made on Custom PHP – it needs to be updated from time to time. Let's try and understand what you should do :
Check your website's UX & UI :
Approx 80% of online users never returned to a website when they had a bad experience. Better User experience (UX) of an eCommerce boost positive impact in the minds of site visitors and leaves deep effect to be a reason to come back again. UX is the biggest impact of the online business.
Monitor your Website Speed :
75% of online consumers say they won't go back to a website if they've had trouble with load speed. Web visitors expect complete loading of a website within three (3) seconds. Whether they are on mobile devices or big sisters they expect seamless loading and other interactive performance of the web pages.

Optimize the Checkout Process
The checkout process is one of the most important components of any website with eCommerce capabilities. Seven of every ten visitors leave the website without buying. Optimize your checkout process to turn more visitors into customers."Don't Waste Customers' Time". Ask less, offer quick!! Employ Quick-checkout at your Magento Store.
Make it SEO Friendly
Search Engine Optimization is the scientific art of optimizing your website around specific keywords in order to rank higher in search results. SEO-friendliness is important because it also helps you appear in Search Engine Results Page features. eCommerce websites should focus on Image, platinum keywords and reviews.
Social Media Optimization
Social media is a powerful tool for eCommerce websites. The ability to not only direct shoppers toward a new product or an attractive deal, but to engage with them and create a sense of community, is incredibly useful.
An eCommerce business, probably well aware of the important role social media plays in the evolution of online shopping. With 93 percent of consumers turning to social media to help make buying decisions—and 90 percent of them saying they trust product recommendations from their observations. 
Make it Responsive!!
A study from ComScore revealed that 60 percent of consumers browse the internet with their mobile devices. Over 96% of shoppers have shopped online at least once, and a majority prefer online shopping because it saves them both time and money. Responsive web design means that your website meets the requirements of your users and the platform they are using. The layout changes based on the size and capabilities of the device. A great example of pictures. On a desktop, a product photo might be relatively small, often taking up roughly one-eighth of the screen.
Target audience
The most important first step when it comes to identifying your audience is simply to know and understand the product or service your business is offering. The audience in the eCommerce industry works differently from that of the real world.
Choose your Target Wisely
The launch of your new website is the beginning of a process of continuous investment. You should constantly be measuring your website performance to discover where you are losing sales and where you can improve the experience for the end-user
Do this too : 
Keep content fresh

Update Website Security 

Update and spay on your competition

Use new Marketing trend and tools