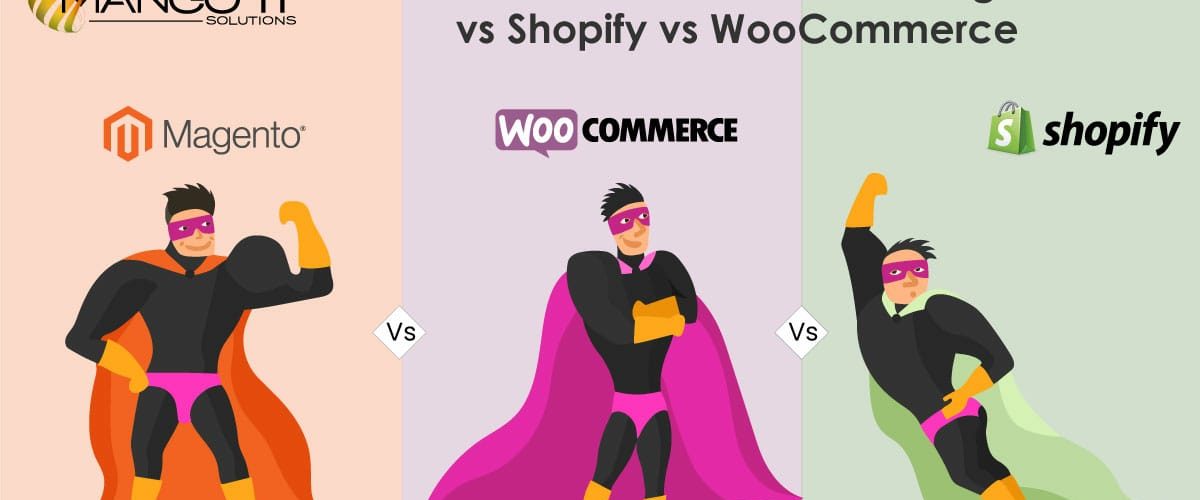 Best eCommerce Platform: Magento vs Shopify vs Woo Commerce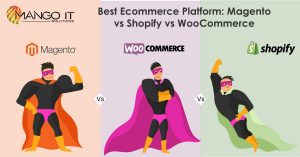 As you've already decided to step into the eCommerce world, then selecting the most suitable platform is surely a headache for you. And why not? Getting hands-on with the best eCommerce platform is where you actually embark your eCommerce business journey from. Apart from your product, this is the second most important facet for your eCommerce business. It won't matter even if your product is one-of-a-kind when the eCommerce platform you've opted for isn't just right.
So, here we are again making life a little easier for you. We bring you a detailed description of 3 of the best eCommerce platforms in the industry along with the main differences between them. The 3 giant eCommerce platforms include Magento, Shopify, and WooCommerce. They outperform all the other platforms by a fair distance having captured over 50% of the eCommerce market share. 
Here's just a perfect comparison between these 3 extraordinary eCommerce platforms that will help you to decide the best one for your business.
THE INTRODUCTIONS
Magento
What makes Magento so popular in the eCommerce industry is that it is an open-source platform. Launched back in 2008, Magento outclasses the other two platforms with its highly customizable features. Apart from its free edition, it also comes up with an enterprise edition as well. The exclusive in-built functions that it caters its customers with has made it the go-to platform for legacy brands such as Nike and Nestle. On top of it, it allows you to create and handle multiple websites through its single dashboard control feature. 
At present, Magento has a market share of over 10%  in the top 1 million eCommerce websites across the globe.
Shopify
One of the major reasons why Shopify is often considered as the best eCommerce platform is that even a person from non-technical background can use it with ease. It eradicated the barrier of technicality and marked the beginning of the no-code economy in the IT industry. With a lot many extensions on offer and a single-click integration feature, Shopify is by far the most  hassle-free eCommerce platform today. This makes it suitable for small and medium size businesses around the globe. If you're someone who wants to set up an eCommerce rather sooner than later, Shopify must be on top of your list then.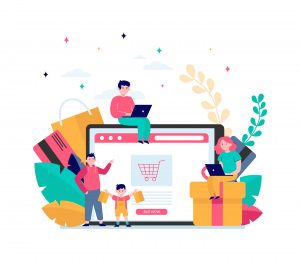 WooCommerce
WooCommerce is basically a plugin that turns a simple WordPress website into an eCommerce store. Capturing the largest share in the eCommerce industry, WooCommerce makes building an online store a cakewalk for WordPress users. While the interface is quite easy on the go, you gotta have a decent knowledge of HTML or CSS. Though it is also an open-source platform, you can purchase a customized theme from the store to enhance the performance of your online store. If you already have a WordPress website, then must not look out for other options.
THE ULTIMATE SHOWDOWN
Ease of Use
Magento has a steep learning curve. If nobody from your team is from a technical background (someone having knowledge of PHP, HTML, cloud hosting), then don't even think of building an eCommerce store with Magento. 
The easiest and best eCommerce platform you can get your hands dirty with. No prior experience of coding is required while building an online store with Shopify. Just drag and drop to take your eCommerce store on top.
When it comes to WooCommerce, it is an ideal platform for you if you know how to handle a WordPress website. Do not look out for the other two options if it is the case.
Performance & Scalability
Although Magento is an extremely complicated platform to handle, it on the other hand is the most robust platform of all. It maintains 1000s of products along with high traffic quite seamlessly making it a go-to platform for large eCommerce businesses out there.
As far as the speed and performance is concerned, Shopify gets full marks for it. It outclasses the other two in terms of speed but scalability can be a hurdle sometimes. If ever you come across that hurdle, Shopify Plus should be your next move.
If you're from a coding background, scalability in WooCommerce won't even bother you. But if you're not, then delete the word scalability from your dictionary. 
Security
Skilled developers and hosting services, two things you must have to ensure security in Magento. Regarded as a platform that keeps security at the centre of everything, Magento has numerous extensions available for the same.
If you've opted for Shopify as your eCommerce platform, then you shouldn't worry about security. The onus of security is on Shopify itself.
Since WooCommerce is a WordPress plugin, you need to have the hosting service provider at your disposal to ensure security. However, WordPress constantly updates itself for security and bug fixing.
Customizability
If we talk about customization in Magento, sky's the limit. As it is an open-source platform and there's coding required to get your online store live, your design can be as customized as possible. This has been the major reason why coders consider it as the best eCommerce platform.
There's  a set of themes that Shopify offers and you can customize your eCommerce store based on that. If you aren't satisfied with those available in the store, you gotta pay some dollars for every new theme that you buy.
WooCommerce provides a lot of margin for customizing your online store. You have the flexibility of changing the themes, plugins, and extensions as per your requirement.
FINAL THOUGHTS
I think the best eCommerce platform is the one that fits your business requirements perfectly. Going for a platform just because the majority of businesses are using it shouldn't be your thought process. Instead analyse everything about your business first and then select the eCommerce platform that fits in well. 
Although there's a general norm in the industry that Shopify suits well for small businesses, WooCommerce for small and medium businesses, and Magento for large scale businesses. Now you have to decide which criteria your business fulfills and you'll eventually have the best eCommerce platform right in front of you.